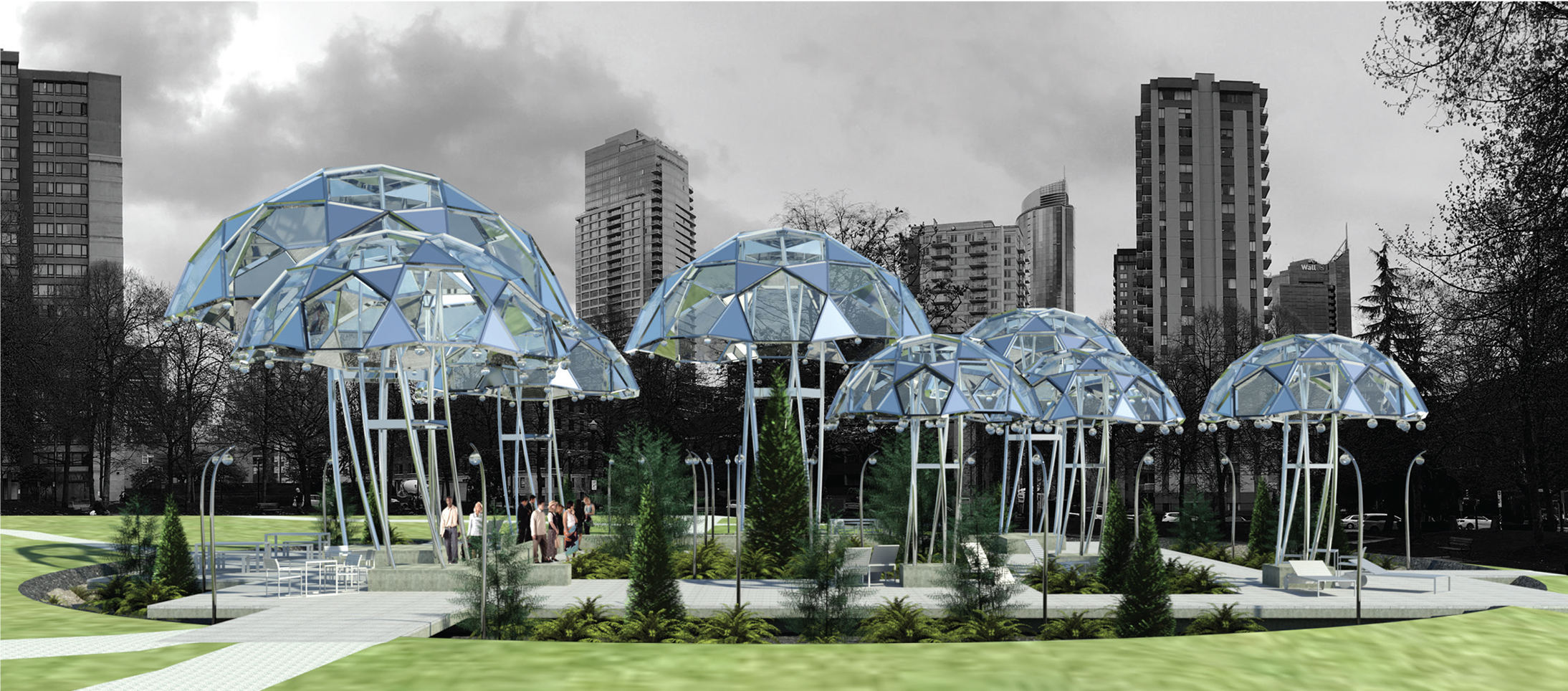 STREAM 1: THE PLACE
ENTRY A17 – Mushroom Patch in The Urban Rainforest
Please click on the images for the full version
Mushroom Patch in The Urban Rainforest is inspired by an encounter with bracket fungi growing out of a dead tree on a hiking trail up Black Mountain invoking visions of giant mushrooms sheltering "urban living rooms" as iconic structures mitigating scale in a forest of glass and concrete that surrounds Nelson Park. Just as bracket fungi covered in dewdrops suggest anything magical can grow in the rainforest, the mushroom pavilions would be a fertile place of gathering where anything can happen. The metaphor would be abstracted as a landscape design move with transparent and reflective materials interacting with light just as water does, stimulating dreamy imagination and inviting people to further define the place themselves with their own creativity however it may flourish. It is a celebration of the precious temperate rainforest that Vancouverites occupy and the rain that feeds all life growing out of it.
Precedents inspiring learning, innovation & adaptation:
The Great Outdoors of British Columbia - On Meares Island near Tofino, one can walk through a 2000 year old forest on an elevated pathway as though treading lightly on the earth. In an urban setting, a raised and covered platform would allow people to conveniently gather above the wet ground engaging in activities such as a short break from the office, al fresco with random strangers or a spontaneous bring-your-own-instrument jam session: rain or shine.
Minimalism - Barcelona Pavilion by Mies Van der Rohe is an example of innovative technology and abstract place making creating a public destination without defining who it is built for nor what one should do there. Hence, everyone is welcome and free to develop the spaces themselves and how it will evolve over time while allowing a wide range of programs for different types of activities and gathering.
Math - Buckminster Fuller used golden ratio derived polyhedrons to design geodesic domes. Discovered to occur in nature, the golden ratio historically has been used in architecture since ancient times to achieve divine beauty and sublime proportions in hierarchical form. In built form, design derived from mathematical rationale would inspire people of all ages to seek higher learning in arts and science to advance innovation while also achieving beauty that otherwise would only occur in nature as an act of God.