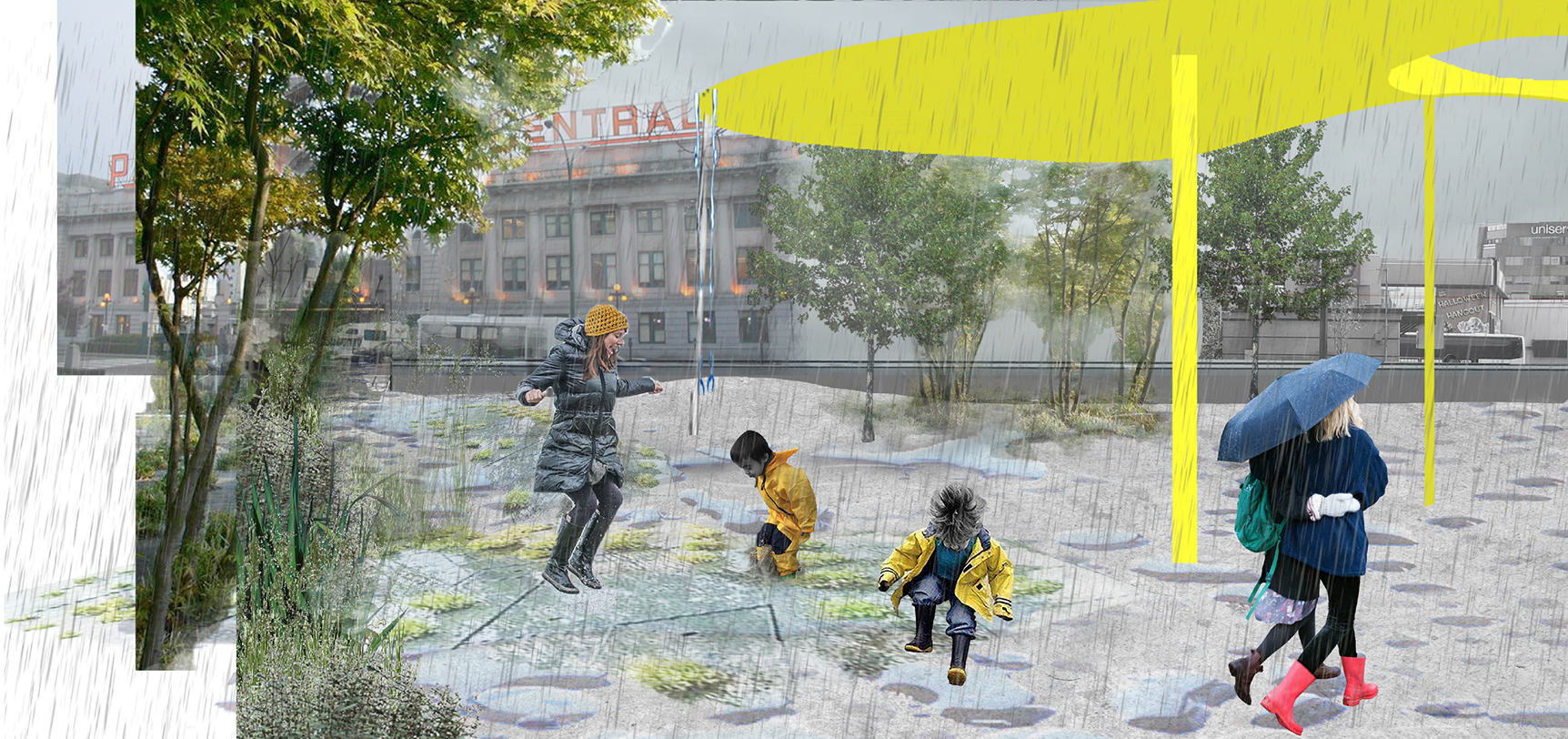 STREAM 1: THE PLACE
ENTRY A20 – Splash!
Please click on the images for the full version
Splash! bringing wonder to everyday spaces
There are few features more iconic to the city of Vancouver than rain. It is the unavoidable rhythmic backdrop of the city. Despite this fact, people everyday prepare themselves for the elements and journey across damp streets, walking to work and taking public transit. In fact, transit ridership across Metro Vancouver is increasing faster than any other city in North America.
Splash! is an attempt to activate public space along transit corridors, where people congregate out of necessity during all seasons. The ubiquitous transit station is explored as a site for both shelter and playful engagement. This project proposes select transit hubs are transformed to disrupt the ordinary, inspire curiosity and provide places for respite in both rainy and dry conditions.
Situated at a confluence of demographics and iconic landmarks, the Main Street-Science World station is suggested as a site to demonstrate design embracing both rain and comfort. Utilizing the station itself, canopy structures emerge from architecture, channeling water into rain gardens, puddles, and water features. Pockets of vegetation disrupt paving, creating a gradient from hardscape to softscape. Bright canopies contrast the ever-present grey Vancouver, with openings that highlight the threshold between sky and earth.
Inspired by the whimsy of childhood play, Splash! is a provocation to reconsider what we often avoid. A simple puddle is transformed from an obstacle to a site of wonder. Along our daily journeys, imagine the possibilities if we design for curiosity. There is magic hidden within the ordinary.